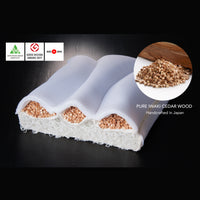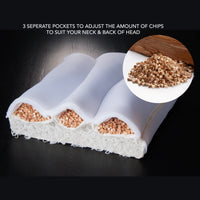 THE CEDAR REST PILLOW (MADE IN JAPAN) - 100% PURE IWAKI CEDAR WOOD PILLOW WITH REMOVABLE BREATHAIR® COVER
Bringing the practice of shinrin-yoku to your home.
This award-winning pillow, handcrafted entirely in Japan, is made of pure Iwagi cedar chips that contain cedrol, a natural fragrance that has a relaxing, calming effects - It's like enjoying a shinrin-yoku (forest bathing), making you feel like you are sleeping in forest.
Each pillow is made up of 700 pairs of chopsticks that are hand cut into round-shaped chips to enhance the cushioning effect of the pillow. The chips are dried to 1/3 of their original moisture to give the pillow excellent moisture absorption and humidity control.
The Patented 3 pockets BREATHAIR® cover provides the perfect support for your neck and head as the number of wood chips in each pocket can be adjusted to modify the pillow height according to your needs.
The cover is washable and easy to care.
AWARDS in Japan -
2017 Yoshimoto Fukushima Schiffan Crafts Division Certified Products
2017 Utsukushima, Eco-Recycled Certified Products
2017 Good Design Award
2017 Wood Design Award
FABRICATION
Filling: 100% Pure Iwaki Cedar wood chips
Removable Cover with zip: Cotton/Polyester (Removable & Washable)
Made in Japan
CARE TIPS
First, remove the cedar chips and hand wash the cover in gentle detergent.
Line dry. For the wood chips, air and dry in the sun to maintain their fragrance and sweat absorbency.
SIZE GUIDE