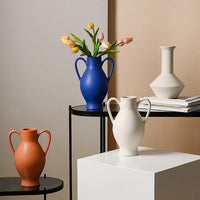 ARAMIS - KOMME DECOR VASE
Timeless, yet contemporary, this bespoke hand-crafted vessel makes a graceful presence in any home interior. Crafted in clay with a semi-matte glaze for a unique expression.
Functional as a vase or as a unique decor on its own.
CARE INSTRUCTION
Rinse with water. Do not use abrasive scrub.
SIZE GUIDE